4-066XL+4-069+44-J : Medium-duty VOX Throat Mic (Big size)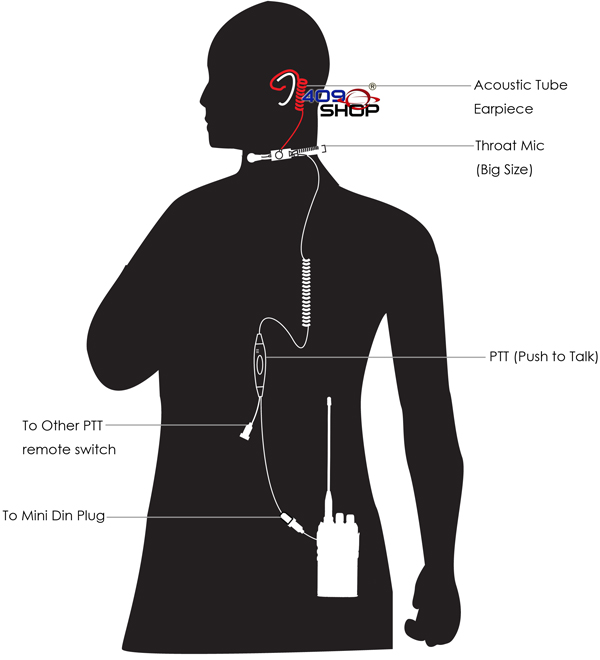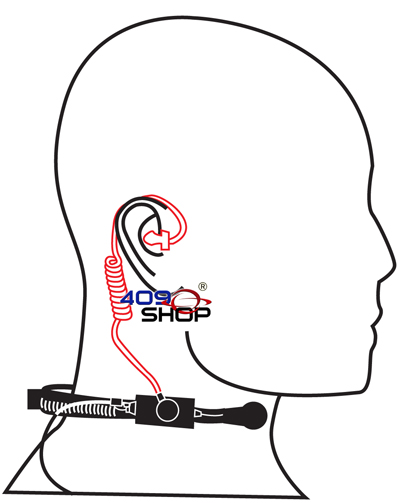 This professional grade throat mic is pecifically designed for demanding tasks in paintball / airsoft setting. It is also widely used in discreet communications.
Compared with the normal grade items, this throat mic is made of stronger materials and wires to sustain heavy-duty demands. This throat mic is extendable for adaptation to neck sizes between 17-20 inches. Made of stronger and more elastic material, the throat mic stay on your neck in tight.
Since the microphone transmits directly from your throat, it is not sensitive to the background noise. This is exceptionally ideal for usage in high ambient environment such as driving, riding motorcycles and bicycles.
With the best-quality transparent acoustic tube that could hardly be detected by people around you, this is also ideal for surveillance purposes and security at airports, casinos, crowd control at conventions and concerts, and other working environment requiring discreet communications. The throat mic could be easily hidden under the collars too.
The throat mic is VOX ready. It can work in VOX mode with radios that come with built-in VOX function. For radios without built-in VOX, it can still work in PTT mode.
Here are the exceptional features of the Throat-Vibration Mic:
Excellent Sound Quality: This throat mic is a dual-mic design. There is a mic on both the left and the right side to transmit your voice in the clearest quality. You may found cheaper throat mics (come with 1 mic on one of the sides) in the market, but sound quality will tell the difference. We have tested a number of similar products and this one is simply the best in transmitting voices in their authentic tones.
Snug Fit Transparent Earbud: The mushroom shaped acoustic tube earpiece is the best choice for long-hour operation.
Fine Transparent Acoustic Tube: You may hide the throat mic under the collar and the transparent tube earphone is not easily detected by the others. This is ideal for discreet communications.
Big PTT switch: big and strong enough for demanding outdoor operation;
Extendable: adjustable to suits neck size between 17"-20".
VOX/PTT Throat-Vibration Speaker/Microphone in connection to an acoustic tube headset and a PTT button / VOX switch.
VOX/PTT compatible: VOX mode only works with radios that come with built-in VOX capability.(VOX funtion is not for YAESU radio.) .
Best fit neck size: XL size fit 17" - 20"
Length of wires: 60 cm / 2 ft from throat mic to PTT switch; 120 cm / 4 ft (fully extended) from PTT switch to plug; transparent tube extendable to 30 cm / 1 ft from the throat mic.
Weight: 90 g.

Technical data of earphone speaker
Transducer: moving coil dynamic speaker Impedance: 32Ω +/- 15% @ 1kHZ
Sensitivity: 120 +/- 3dB @ 1kHZ
Resonance freq (FO) 400HZ +/- 20%
Rated input power: 200mW Maximum input power: 500mW
Technical data of microphone
Sensitivity: -38+/-2dB @ 1kHZ 2.2KΩ 3V 0dB=1v/pa
Impedance: Max. 2.2kΩ @1kHZ
Directivity: Omni-directional Frequency: 100Hz - 16000Hz
Max operation voltage: 10V
Standard operation voltage: 3V;
Current consumption: Max. 0.5mA;
S/N ratio: Min. -58dB @1kHZ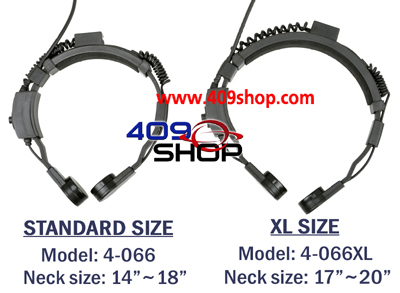 ---
PACKAGE CONTAIN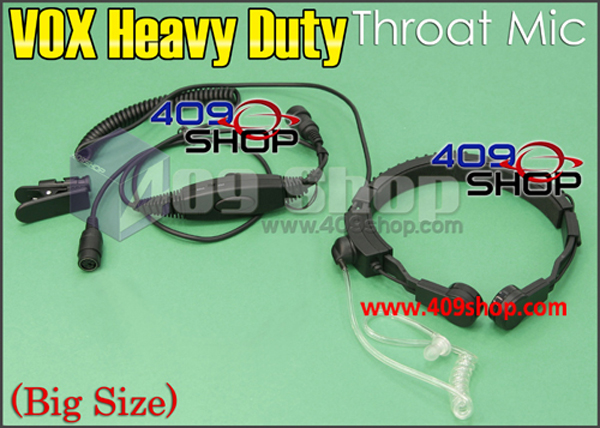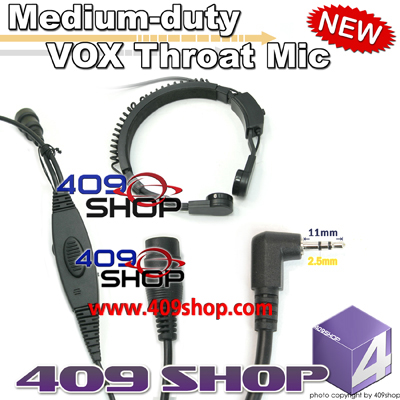 1 x Medium-duty VOX Throat Mic XL size ( 17"-20")
1 x Remote PTT cord with finger switch
1 x Mini Din Plug
SY
---
More plug OPTIONAL :
Fit for your Radio ,Please choose from : MINi DIN PLUG for connector Radio