4-018 series :This listing is for the brand new aftermarket ear bud style headset with inline microphone as seen in the photo. It has a remote microphone with a push to talk button that clips almost anywhere. The earbud fits snugly on the ear and keeps your conversations private. Optional ear clip included for additional support. Can be used on either the left or right ear.

Excellent for use in police, military, nightclubs, bars, paintball, security, restaurants, hotels, bouncer, warehouses, and noisy environments.

Specifications




The cable length from the connector to the push to inline microphone is 29 inches.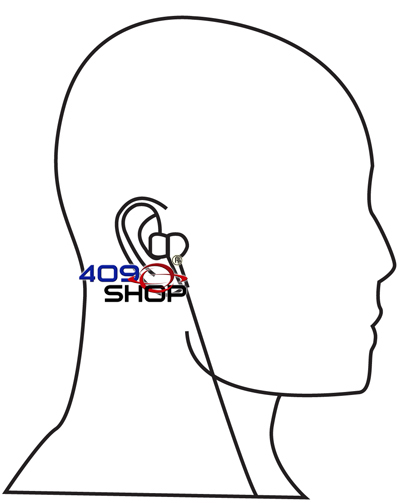 The cable length from the microphone to the ear bud is 9 inches.
Speaker Specs DIA: f13±0.5mm
Impedance: 32O ±15% ,Sensitivity: 103dB±3dB
Frequency Response: 200Hz-3.5KHz
Microphone Specs: 6.0 X 5.0mm ,Frequency Response: 20Hz-16KHz
Impedance: 2.2KO
Sensitivity: -36dB±2dB

Color: Black
Ear View Inline Push to Talk Button/Mic
---
Other plug , please click "Choices for this product:"
| | | | |
| --- | --- | --- | --- |
| | Item Size | Select Plug | Member Price: |
| 1x 4-018K | 1x Earpiece mic with PTT for Kenwood | (K Plug) | US$5.00 |
| 1x 4-018M | 1x Earpiece mic with PTT for Motorola | (M Plug) | US$5.00 |
| 1x 4-018MT | 1x Earpiece mic with PTT for Motorola Talkabout | (MT Plug) | US$5.00 |
| 1x 4-018S | 1x Earpiece mic with PTT for Icom | (S Plug) | US$5.00 |
| 1x 4-018S2(L) | 1x Earpiece mic with PTT for Midland | (S2(L) Plug) | US$5.00 |
| 1x 4-018Y | 1x Earpiece mic with PTT for Yaesu | (Y Plug) | US$5.00 |
| 1x 4-018Y7 | 1x Earpiece mic with PTT for Yaesu | (Y7 Plug) | US$12.00 |
1 x Earpiece mic with PTT (please choose type)