Vertex two way radios are powerful and built for durability. The Vertex VX351 UHF radio offers 5 watts of transmit power and support for 16 channels. Channel scan and monitor functions are also supported. These professional radios offer a great value and provide a high level of performance and reliability.

The VX-351AG comes equipped with function keys that can be customized via programming to meet your communications/network requirements. The VX-351AG requires frequencies to be programmed prior to shipment. If specific frequencies are not requested, the VX-351AD will be programmed with frequencies comparable to the Motorola RDU 4100/4160. Place your specific frequencies or functions request in the Comments field and we will program your radio prior to shipment.

The VX-351AG comes standard with an 1800mAh Lithium –Ion battery, which has an exceptional battery life of over 11 hours - even with the battery saver function turned off. A rapid battery charger also comes standard with the VX-341AG.

Need headsets or extra chargers? A full line of accessories are available for Vertex radios, including: rapid chargers, high capacity batteries, shoulder mics, and option boards.

The VX-351AG is equipped with an option port that expands the versatility of the radio. Functions such as simple inversion or rolling code encryption, DTMF paging decoder and MDC1200 or GE-Star ANI encoder are only accessible through the installation of optional boards. For your convenience, expansion boards can be purchased through us.

The VX-351AG UHF radio operates on UHF frequencies which is better suited for inside steel or concrete structures.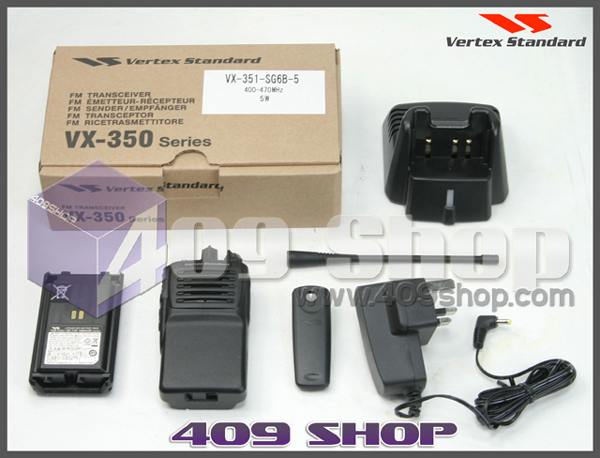 1 x Vertex Standard VX-351-CG6B-5 UHF Radio (400-470MHz)

1 x UHF antenna

1 x CD-34 Rapid Charger with 100-240PSU

1 x FNB-V95Li or FNB-V96Li Lithium-Ion Battery