BRAND NEW YAESU VX-6R
Dual Band Submersible Handheld Transceiver
Summary
The VX-6R is an ultra-rugged 144-430 MHz FM Hand-Held featuring wide receiver coverage, JIS7 submersibility, the Yaesu-exclusive Emergency Automatic Identification (EAI) system, and ultra-simple keyboard access to important features.
New on the VX-6R is the One-Touch Direct Memory Recall feature, that allows you to recall ten favorite memories with a single button press, just like on your car stereo.
The VX-6R comes equipped with a high-capacity 1400 mAh Lithium-Ion Battery Pack
FEATURES
Direct Memory Recall feature provides One-Touch Stored Frequencies Access, just like on a Car Stereo!
Huge 900-channel Memory Capacity with 24 Memory Banks and Two "Special Memory" Groups.
Huge 900-Channel, 24-Banks Memory System
Three Special Memory Banks for Shortwave, Marine, and Weather Broadcast Stations!
Ergonomic Design is Ideal for Operation when Wearing Gloves
Outdoor-ready Features including Waterproof Rating, Emergency Automatic ID (EAI) system, and Weather Sensor Capability
Compact Polycarbonate Resin and Aluminum
Die-Cast Case with Solid Waterproofing Seal
(guaranteed at depth of up to 3 feet for 30 minutes)
Weather Sensor Capability
Three Powerful Emergency Features:
EAI Feature: Ideal for Outdoor Operation!
Emergency Feature
Easy-to-Use Ultra-Bright Emergency Flashing LED
Five Watts of Power Output, using High-Capacity Lithium-Ion Battery (supplied)
Wide-band Receiver Coverage for Catching All the Action!
Convenient Selective Calling and Paging Features!
New Two-Tone CTCSS Paging
50-Tone CTCSS Tone Squelch and Digital Code Squelch Systems
Auto-Range Transponder System (ARTS)
Versatile Scanning for the Monitoring Enthusiast!
Outstanding Power-Management Features
New "Wake-Up" Feature Checks for Activity when Radio is Turned Off!
Additional battery saving features
Big-Radio Features in a Compact Package!
Performance Features for the Experienced Hand-Held User!
Specifications
Frequency Ranges:


RX
0.5 - 1.8 MHz (BC Band),
1.8 - 30 MHz (SW Band),
30 - 76(59) MHz (50 MHz HAM Band),
76(59) - 108 MHz (FM Band),
108 - 137 MHz (Air Band),
137 - 174 MHz (144 MHz HAM Band),
174 - 222 MHz (VHF TV Band),
222 - 420 MHz (ACT1 Band),
420 - 470 MHz (430 MHz HAM Band),
470 - 800 (729) (UHF TV Band),
(757 - 774) (UHF TV Band),
800 - 998.990 MHz
(ACT2 Band;USA Cellular Blocked)

TX
50 - 54 MHz,
140 - 174 MHz

420 - 470 MHz,

Channel Steps:
5/9/10/12.5/15/20/25/50/100 kHz
Frequency Stability:
±5 ppm @ 14 °F to 122 °F (—10 °C to +50 °C)
Repeater Shift:

±600 kHz (144 MHz),
±1.6/5.0/7.6 MHz (430 MHz)

Emission Type:
F2D , F3E
Antenna Impedance:
50Ω
Supply Voltage:

Nominal: 7.4 V DC, Negative Ground
Operating: 5.0 ~ 16.0 V DC (EXT DC Jack)
11.0 ~ 16.0 V DC (EXT DC Jack while Charging)

Current Consumption:
(Approx. @7.4 V)

150 mA (Receive)
60 mA (Standby, Saver Off)
20 mA (Standby, Saver On)
1 mA (ON Timer Activated)
200 mA (Auto Power Off)
1.6 A (5 W TX, 144 MHz)
1.5 A (1.5 W TX, 222 MHz: USA only)
1.8 A (5 W TX, 430 MHz)

Operating Temperature:
–4 °F to 140 °F (–20 °C to +60 °C)
Case Size (W x H x D):

2.3 "(W) x 3.5 "(H) x 1.1" (D) (58 x 89 x 28.5 mm)
(w/o knob, antenna, and belt clip)

Weight:
9.5 Oz (270 g) with FNB-80LI, and antenna

Transmitter

RF Power Output:

High

Low 3

Low 2

Low 1

144 MHz/430 MHz

5.0 W

2.5 W

1.0 W

0.3 W

222 MHz (USA Only)

1.5 W

1.0 W

0.5 W

0.2 W

Modulation Type:
Variable Reactance F2D , F3E
Maximum Deviation:
±5 kHz (F2D , F3E)
Spurious Emission:

At least 60 dB down (@ High power)
At least 50 dB down (@ Low 2 and Low 1 power)

Microphone Impedance:
2kΩ

Receiver

Circuit Type:

AM, NFM: Double-Conversion Superheterodyne
WFM: Triple-Conversion Superheterodyne

Intermediate Frequencies:

1st

2nd

3rd

AM, NFM:

47.25 MHz

450 kHz

-

WFM:

47.25 MHz

10.7 MHz

1 MHz

Sensitivity:

1.0 µV TYP for 10 dB SN (1.8-30 MHz, AM)
0.35 µV TYP for 12 dB SINAD (30-54 MHz, NFM)
0.5 µV TYP for 12 dB SINAD (54-76(59) MHz, NFM)
1 µV TYP for 12 dB SINAD (76(59)-108 MHz, WFM)
1.5 µV TYP for 10 dB SN (108-137 MHz, AM)
0.2 µV for 12 dB SINAD (137-140 MHz, FM)
0.16 µV for 12 dB SINAD (140-150 MHz, FM)
0.2 µV for 12 dB SINAD (150-174 MHz, FM)
0.5 µV TYP for 12 dB SINAD (174-250 MHz, WFM)
0.5 µV for 12 dB SINAD (300-350 MHz, NFM)
0.2 µV for 12 dB SINAD (350-420 MHz, NFM)
0.18 µV for 12 dB SINAD (420-470 MHz, NFM)
1.0 µV for 12 dB SINAD (470-540 MHz, WFM)
1.0 µV TYP for 12 dB SINAD (580-800 MHz, WFM)
0.5 µV TYP for 12 dB SINAD (800-999.990 MHz, NFM)

Selectivity:

AM, NFM: 12 kHz/35 kHz (–6 dB /–60 dB)
WFM: 200 kHz/300 kHz (–6 dB /–20 dB)

AF Output:

200 mW @ 8 Ω for 10 % THD (@ 7.4 V)
400 mW @ 8 Ω for 10 % THD (@ 13.8 V)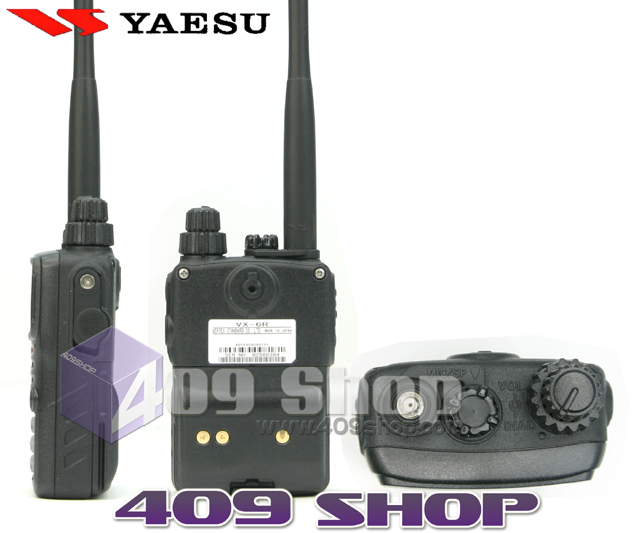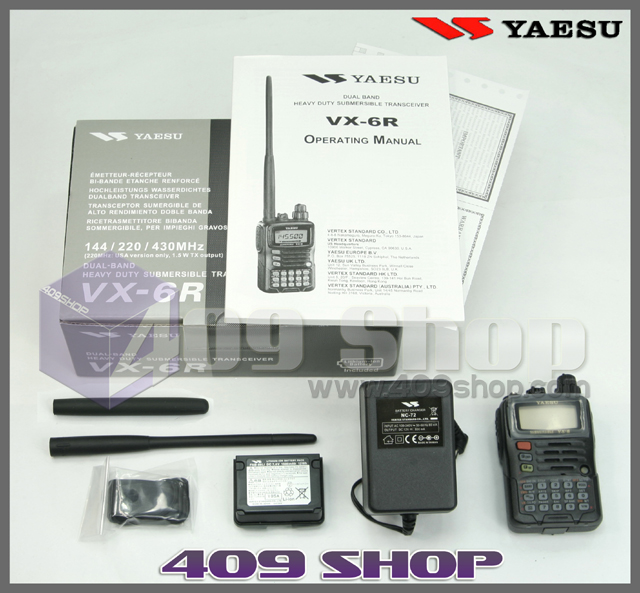 1x YAESU VX-6R (Version :B3 EXP)
1x SMA Antenna
1x HF Antenna
1x FNB-80LI 1400mah Battery Pack
1x Charger PA-48
1xBelt Clip
1x English OperatingManual
1x Warranty Card
| | |
| --- | --- |
| Original Optional Accessory | |