0014-0002
Cable tracker MS6812
This telephone cable tracker is a good equipment for maintaining the telephone cable.
Description:
Conveniently and economically installs and maintains phones in your home or workplace with the help of this cable tracker
It can check cables without disrupting their installation or insulation
Can identify the state of a working telephone line(clear, ring, busy)
Judge the continuity of cables or wires
Track and diagnose break points
Send a single solid tone or a dual alternating tone to the object cables or wires
There is a volume sensitivity control knob
There is a sender and a receiver
Sender:

Dimension(L x W x H): Approx. 14.5 x 3.3 x 2.3cm(5.7 x 1.3 x 0.9 inch)
Test Lead Length: Approx. 78cm(red and black, 30.7inches) 48cm(white, 19 inches)
Powered by a 9V battery

(NOT INCUDING BATTERY)

Send Tone Frequency: 1.5KHz
Color: Dark green

Receiver:

Dimensions(L x W x H): Approx. 23.8 x 4.2 x 2.3cm(9.4 x 1.7 x 0.9 inch)
Powered by a 9V battery(included)
Receive Frequency Range: 100KHz - 300KHz
Color: Dark green
Package Includes:
1 x sender
1 x receiver
1 x black pouch
1 x English manual
Note: Please read the manual carefully before you use this equipment.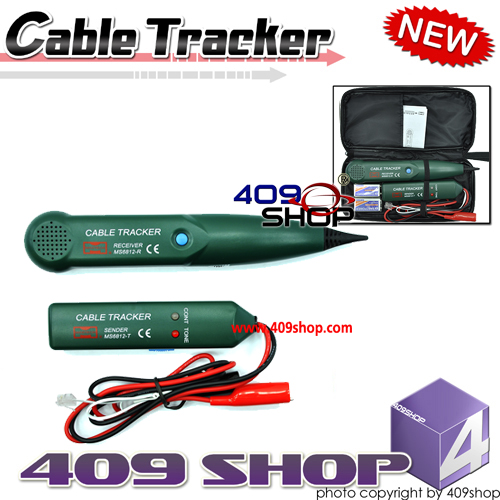 1 x Cable tracker MS6812 ( GREEN COLOUR)

(NOT INCUDING BATTERY)