0019-0055
Power Inverter 24v-220v (300w)
Product Features:
1. With overload protection, over temperature protection, undervoltage protection, overvoltage protection, short circuit protection.
2. Working voltage: DC24V
3. Car power converter, the power to make you easy to use
Product description:
1. This product includes over-current, overload, high pressure, high temperature, short circuit, undervoltage protection features six, and a sound and light alarm, and not an external electrical damage to the car itself, will not forget to turn off the device caused by using vehicle can not start, built-in electronic fuse, more secure and reliable.
2. Microcomputer chip control technology, more than 90% power conversion products, real-time current-voltage and overload control microcomputer automatic control, intelligent control to achieve.
3. Output voltage and output frequency accuracy and stability, load dynamic stability, load adaptability. Actual output power will not be less than the indicated power.
4. Battery protection, in the over-temperature, under-voltage alarm, overload protection can be automatically restored after the work.
5. Is very small, delicate and beautiful appearance, maintenance-free. Quality products than non-general processing.
6. Car cigarette lighter port maximum power output of 300W, so you are more than 300W for driving the electric vehicle when directly connected to the charging point of bottles.
7. Car owners, you want to use in the car always-on laptop computers, mobile phones, cameras, digital cameras, MP4, MP3 and other digital products? This product meets the love in your car, always-on-board 220V power supply or USB devices (MP4, MP3) requirements.
8. Car inverter (power converter, Power Inverter) is able to DC24V and DC electricity is converted to ClassLike a AC220V AC, electrical for general use, is a convenient vehicle power adapter. Car power inverter has been generally welcomed in foreign markets. Abroad due to high car penetration, work or travel you can connect with the inverter and battery driven electric tools work. China///'//i/s entry into WTO, the domestic market more and more private modes of transport, therefore, car power inverter for use as a mobile DC becomes AC converter will give your life a lot of convenience, is a standing Automotive vehicle loaded with supplies.
9. Car inverter from the cigarette lighter 24V power supply, converts 220V power supply, to the office, communication, entertainment equipment and other equipment used to provide power supply voltage of 220V, is driving out business, tourism, standing tool. The appliances connected to the power inverter output will be able to use a variety of electrical appliances in the car to use as easy as at home.
Performance parameters:
1. DC input voltage: Dc24v
2. AC output voltage: Ac220v
3. Continuous output power:cigarette lighter / 300w
4. Continuous output power: 300w Battery clip
5. Peak output power: 800w
6. Output Waveform: Simulated sine wave
7. Output frequency: ± 4% 50Hz, (60Hz)
8. Effective Output:≥ 90.5%
9. Low voltage shutdown:<20V
10. High-voltage shutdown:> 14.8%
11. No-load current:≤ 0.4A
12. Overload protection:> 300w
13. Over-temperature protection:> 60 ℃
14. Fuse:2 x2 0A
15. Cooling fan:Yes
Applicable to appliances:
Mobile phones, PHS, laptops, MP4/MP3, intercom, digital cameras, camcorders, car refrigerator, lighting lamps, car TV, CD / DVD drive, PDA, game consoles, printers, electric shavers , some of the medical emergency, field detection, police, rescue equipment and other electrical appliances (inverter type, power is not the same, can have different electrical driven).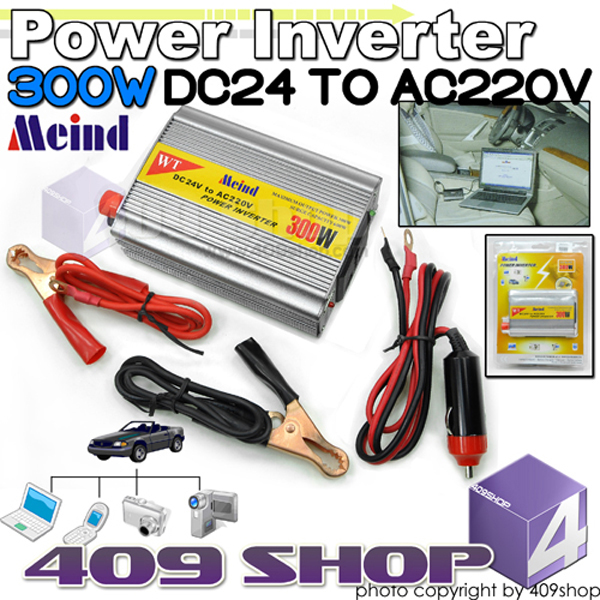 1 x Car Power Inverter 24V DC to 220V (300W )

2 x iron clip

1 x cigarette lighter adaptor plug wire
M