0019-0081
POWER INVERTER (800W) DC 12V TO AC220V
Description:
•Convert DC 12V electricity source into AC 220V power.
•Widely used for all kinds of electric equipments which power consumption are less than 500W and which voltage are equal to AC 220V, such as cell-phone, portable computer, electric light, digital camera, vidicon, TV, CD player, DVD, electri fan, electric tool and so on.
•It can be made from advanced PWM CMOS chip, and can work in the state of ultrasonic sound, which can both in a great extent minish the bulk and weight and make the circuit work without noise.
•The output of the product is a universal socket, which can be used in many countries.
Specification:
1.Input Voltage:Dc12—14.8v,
2.Output Voltage:Ac220v,230v 240v
3.Continuous Power output: 800w
4.Surge Power Capacite:1600w
5.Output Wavefrom:Modified Sine Wave
6.Frequency:±4% 50Hz
7.Availability Power: ≥90.5%
8.LOW Voltage Range:<9.6V
9.Hige Voltage Range:>14.8V
10.No Load current: ≤0.4A
11.Over Load Protect:>800w
12.Over Heat Protect :>60℃
13.fuse: 2X40A
14.Cooling Fan: 1 Cooling Fan
 
Packing:
1. (cm)/Dimension 50*38.8*38CM
2. Weight: 0.7kg
3. Net weight (N.W) 28kg
4. Gross weight (G.W) 33kg
Accessories:
2 x Cable
1 x Charger Cable
Applying area:
It can be used which the power is less than 800W, like work light, 40" TV, sounder, rechargeable drill, etc.
Protection:
Overload protection, High temperature protection, Short circuit protection,
Auto re-start function:
When the inverter shuts off once it being in protection, it is not necessary to press the switch (on/off), just moving the high loads, the inverter can restart automatically. So there is no need to place the spare fuse.
NOTICE:
Please make sure that the rated power you use in this unit is less than 400W(for long time use). In this way, the inverter can be used for a long time.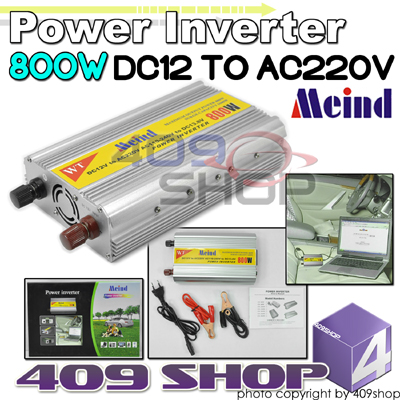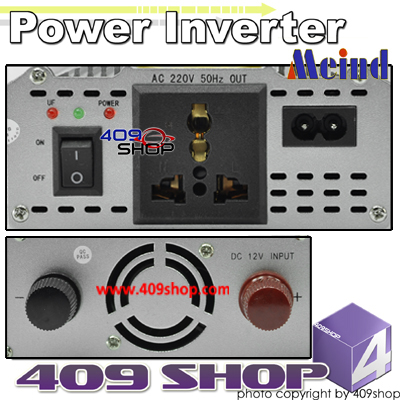 1 x Car Power Inverter 800W DC12V to AC220V
2 x Cable
1 x Charger Cable
CD