6-070+6-084
MULT USB Prog.Cable for KENWOOD
This USB port programming cable allows you to program your two way radio from your computer.
It connects the two-way radio directly to the PC or laptop computer via the USB port, with no additional adapter / option required.
Once setup, you can easily copy the configuration to multiple handsets too.
Specifications:
Fit For:
Kenwood handheld Radio:
TK-255, TK-355, TK-260, TK-360, TK-270, TK-370, TK-272, TK-372, TK-273, TK-373, TK-278, TK378 etc
TK-260G, TK-270G, TK-272G,TK-278G, TK-360G, TK-370G, TK-373G,TK-378G etc
TK-240, TK-340, TK-249, TK-349, TK-250, TK-350, TK-253, TK-353, etc
TK-430, TK-431 etc
TK-2107, TK-3107, TK-2100, TK-3100, TK-2101, TK-3101, TK-2102, TK-3102, TK-2118, TK-3118 etc
TK-2201, TK-3201, TK-2202, TK-3202, TK-2206, TK-3206, TK-2207, TK-3207 etc
TK-2160, TK3160 etc
TK-2160, TK3160, etc
TH-F6A, TH-F7E, TH-F7, TH-F6, TH-G71, TH-K2AT, TH-K4AT etc
Linton handheld Radio:
LT-2288, LT-3288, LT-6288, LT-5288, LT-3188, LT-2188, LT-3260, LT-2268, LT-3268 ,LT-6188..
PUXING handheld Radio:
PX777(PX-777), PX-666,PX-328, PX888(PX-888),PX-333, PX-V6 ...
WEIERWEI handheld Radio:
VEV-3288S,V-1000 , VEV-V8
FDC handheld radio:
FD-6288, FD-268,FD-288,FD-289,FD-278 ,FD-98
WOUXUN handheld radio:
KG-669 , KG-679, KG-689, KG-659,KG-699 ,KG-801,KG-703,KG-UVD1P,KG-816
QUANSHENG handheld radio:
TG-UV, TG-UV2
SURECOM handheld radio:
TG-UV S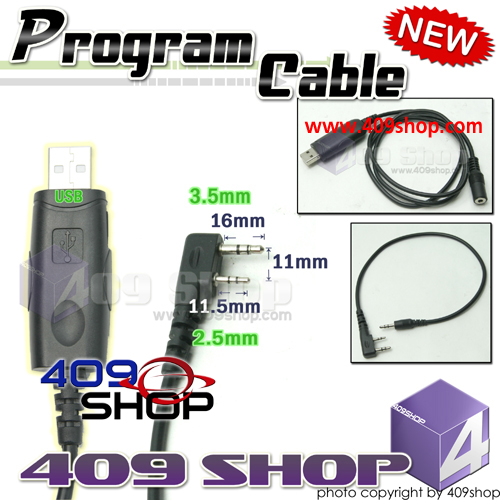 1 x 6-070 2 in 1 USB cable
1 x 6-084 Adaptor for Kenwood Type
1 x Driver CD
---

6-070 USB adaptor support 8 type of Radio Plug only (6-082/6-083/6-084/6-085/6-086/6-088/6-089/6-091), Please choose below :