0023-0169
SANWA Multimeter YX360TRF
Description:
- High sensitivity
- Stabilized indication and drop shockproof
- Attachment body cover equipped for meter panel protection
- Measurement high resistance up to 200M ohm with low voltage
- Null meter ±5 / ±25 in DCV
- Capacitance, dB, Li measurement
- Test Lead compartment equipped for storage
- Direct connected test leads to avoid loss
Specifications:
1. Drop shock proof: A taut-band structure is adopted in the meter part.
2. Circuit protection: The circuit is protected by fuse even when voltage of up to AC 230V is impressed on each range for 5 seconds.
3. Internal battery: R6(IEC) or UM-3 1.5V X 2
4. Internal fuse: f500 Mah/250v 5.2 x 20MM fast acting fuse
5. Operating temperature and humidity: 5~31*C, 80% RH max. 31<~40*C, 80~50RH (decreasing linearly)
6. Storage temperature/ Humidity: -10~50*C 70% RH max. No condensation
7. Withstand voltage: 6kV AC (1min.) between input terminal and case
8. Dimensions and weight: 159.5 X 129 X 41.5 mm/ approx.320g
9. Safety standard: IEC61010-1 CAT.III 600V.CAT.II(AC 700V. DC1000V) & IEC61010-031
10. Environmental condition: Operating a ltiude up to 2000 m pollution degree 2.
11. Model: YX360TRF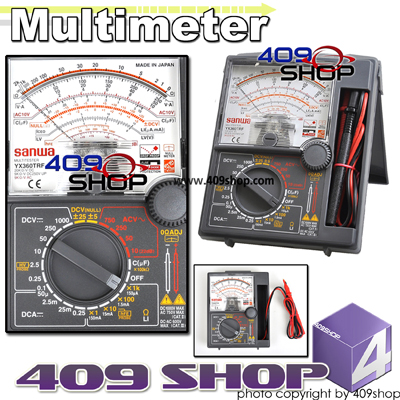 1 x SANWA Multimeter YX360TRF
1 x Calibration Assurance
1 x Manual
k/ki