0045-0168
SGLED-03 LED short torch (Green)
Specifications:
Tube Material:Aluminum and PC
Rated Power:1-3W
Charger Voltage:AC 100V-240V
Operating Frequency:50/60Hz
Cree LED:American high-power LED + Chip LED
Light Color:White and Red
Dimension:15.6 x 5.5 cm
Weight:568g
Shine Angle:80°
Color:Green

Directions:
Connect the charger to DC,then it/////'//i//i/s on charger. The charger will turn red. When the battery is fully charged, it will turn green. There are three function button, Torch head, controlled by white far beam button, has four modes of operation:2 brightness levels(100%, 30%), Strobe 10Hz and strobe SOS.Torch body, controlled by the other two buttons, has two light sources ( white and red), 3 brightness levels (100%, 60%, 30%) just for white light, strobe 1HZ just for red light. And plug in the emergency charger your mobile phone.When fully charger, torch body can operate up to 8 hours. Sixty percent brightness can up to 12 hours. Thirty percent brightness can up to 24 hours.
Photo will have chromatic aberration compared with the product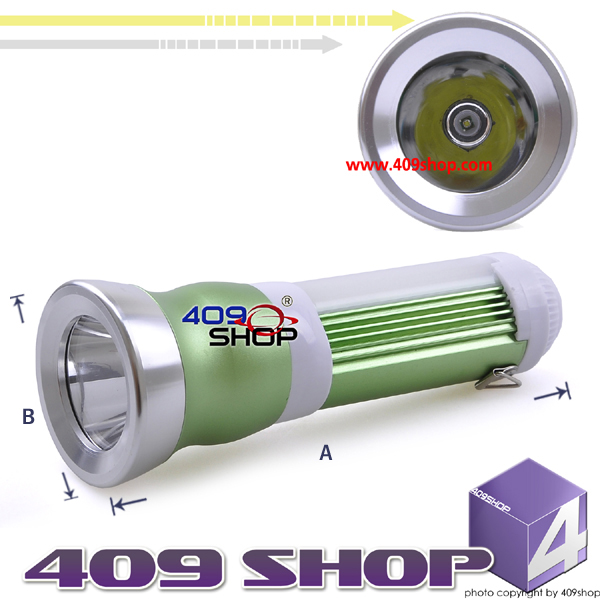 1 x SGLED-03 LED short torch (Green)
1 x Charger (126 cm)
1 x Car Charger (105 cm)
1 x USB connector
1 x User Manual
1 x Package Bag
1 x Shoulder Strap (100 cm)
*We can supply 4 different AC Adaptor suit your country
C
We can supply 4 different AC Adaptor suit your country: