0045-0201
Bicycle Light Set
Description:
1. D009 is a new high-end bicycle light, Using three CREE XM-L T6 led lights,brightness can reach 2100 lumens. led life up to 100,000 hours!
2. Intelligent digital circuit control,working voltage:8.4V,four-mode memory dimming circuit,point-touch switch with cable.
(1)Low: brightness 580LM
(2)Mid: brightness 1050LM
(3)High: brightness 2100LM
(4)Strobe: brightness 2100LM
3. Mirror reflective cup,greatly improving the efficiency of reflection,the spotlight effect is more perfect,mirror vacuum plating,high temperature resistant,anti-falling,it falls in with popular demand.
4. Housing Material: Aviation aluminum alloy,CNC machining,head with stainless steel pressure ring for better protecting LED light,the surface anode hard oxidation treatment to the military requirements,it feels good. anti-skidding effect is perfect,overall appearance looks very good.
5. Using 4pcs 18650 2000mah to make a battery pack in silicone(2pcs in parallel,2pcs in series),capacity: 4400 mAh,voltage: 8.4V,providing one rubber ring for the wired switch and the professional fixed frame,special design for bicycle fan.you can continuously use more than 2.5 hours for high mode,more than 8 hours for low mode;
6. With electricity display,when the power is more than 10%,the green light will be on;when the power is less tahn 10%,the red light will be on and slowly flash,make you feel safer and more comfortable in the long time outdoor trips of the night.
7. With fixed frame,you can fast remove or install the bicycle light,fixed on the bike more easily,very convenient to use.
Specifications:
SIZE: 55.5mm(Length)*62mm(head Diameter)*81mm(body Diameter)
Need 4x 18650 200mah Li-ion batteries
Model: TR-D009
Weight: 771 g
***Do not the human eye exposure
Photo will have chromatic aberration compared with the product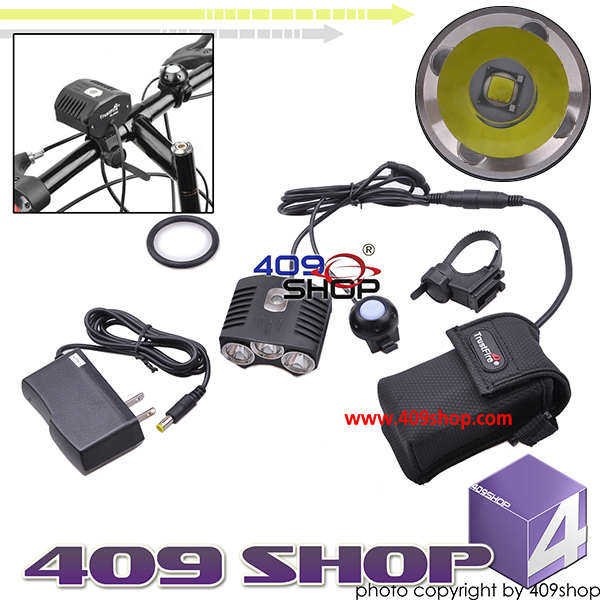 1 x Bicycle Light Set
1 x Bracket
1 x WALL PSU
1 x Rechargeable battery
1 x Rubber Ring
1 x Manual
KI
*We can supply 4 different AC Adaptor suit your country
We can supply 4 different AC Adaptor suit your country: