HRI-200
YAESU HRI-200 WIRES-X WIDE COVERAGE INTERFACCIA VOIP
Yaesu is proud to announce the HRI-200 Internet Linking Kit that provides easy access to WIRES-X (Wide-Coverage Internet Repeater Enhancement System) taking another leap forward as the Leader in Amateur Radio VoIP Communications – this is the multi-mode network linking system Amateur Radio has been asking for!

WIRES-X supports both Analog and the new C4FM Digital radio communications mode. Yaesu's System Fusion, already the fastest growing Amateur Radio Digital System, is certain to see yet another pique in interest thanks to WIRES-X! Attached is a full-detail brochure that describes the long list of new and exciting WIRES-X features including superior audio quality, intuitive user IDs and advanced operating convenience.
WIRES-X Operators can connect with a new suite of tools and features to enhance linking and operability.
High Quality Digital C4FM voice and data Internet based communication system.
The Smart Access Function Feature allows operators to list active nodes and search rooms directly from the transceivers display
Store digital data, text and audio for on demand retrieval with the News Station Function.
Preset Search allows the operator to easily search and connect to local node stations from the transceiver.
Features:
WIRES (Wide-coverage Internet Repeater Enhancement System) is an Internet Based C4FM and Analog communication system
which expands the range of amateur radio communication.
WIRES-X supports both Analog and the new C4FM Digital radio communications mode.
WIRES-X allows communications between both C4FM digital stations and conventional FM stations via WIRES-X
High quality voice communication is achieved by repeating C4FM digital data as it is via the Internet.
WIRES ID: Adopted a simple user ID system using alphanumeric characters.
Smart Access: WIRES-X automatically connects to nodes and rooms by utilizing the Smart Access function. (Digital node station only)
Preset Serach: User can find local node station and receive their frequency setting data for automatic setup. (Digital node station only)
Activity Monitor: IDs of active nodes and rooms can be searched from the C4FM transceiver via a local node. (Digital node station only)
News Station: Stores and reads digital data such as text, images and audio data. (Digital node station only)
WIRES-X provides everything that is needed to maintain a node or room for use by members only.
Easy setup: Opening ports on the router also can be accomplished by using uPnP standards on uPnP Capable routers.
HRI-200 supports Analog FM mobile transceiver for Analog node station as well as Digital node station with FTM-400D.
DR-1X repeater support will be available at early 2015 with DR-1X firmware update.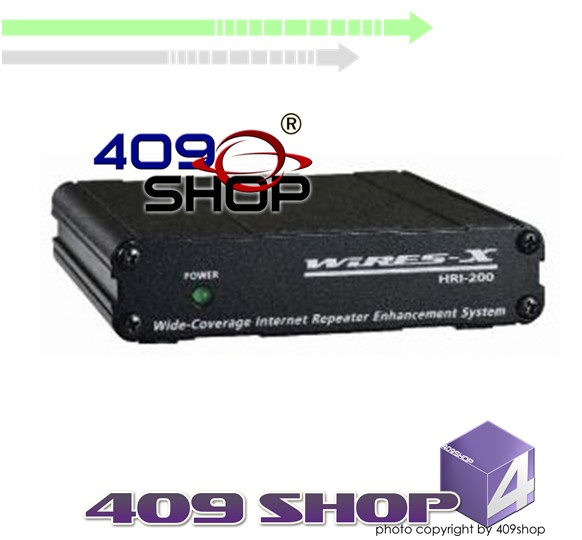 1 x YAESU HRI-200 WIRES-X WIDE COVERAGE INTERFACCIA VOIP
YI