GP328U
MOTOROLA GP328 UHF 403-470Mhz Radio
The GP328 is the two-way radio solution for professionals who need to stay in contact but don't require extra features. This practical radio can easily increase productivity by keeping users communicating, yet streamlines their radio use—allowing them to concentrate on the job at hand. With the GP328, communication couldn't be easier.
Easy To Use, Lightweight Yet Rugged To Suit Your Every Need
Ideal when you need:
• Wide range coverage within the workplace.
• Simple-to-operate two-way radio.
• To contact people who are mobile.
• To make several calls to repeat the same message.
• To manage a facility or more than one building.
GP328 Key Features And Benefits
X-PAND™ Audio Technology
Motorola's special voice compression and expansion technology called X-PAND™ enables crisper, clearer and stronger audio quality, allowing you to keep communicating in any noisy environment.
16 Channels
Maximum of 16 channels to organise work groups with ease and efficiency.
Tone Tagging
Assign 8 different ringing tones to 8 specific users/talkgroups making audio caller identification to these 8 groups possible.
LED Battery Gauge
Tri-colour LED to indicate battery strength, avoiding failed communication with early warning on low battery strength.
Emergency Siren
Easy-to-access, one-touch button with piercing alarm to seek help in critical situation.
Switchable RF Power Level
Optimize coverage and conserve battery consumption.
Field Retrofit Option Boards
Easy to install, affordable add-on functionality whenever your needs arise. Option Boards are available for:
i) DTMF Decode for in-coming calls capability.
ii) Voice Storage for recording and playing back voice messages.
Programmable Channel Spacing Of 12.5/25 kHz Mode
Flexible and easy migration of channel spacing requirements in any situation.
Repeater/Talkaround Enable/Disable
Freedom to communicate via a repeater for wide area coverage; or bypass a repeater and talk directly to another unit for easy local unit-to-unit communications.
Internal Voice Operated Transmission (VOX)
For hands-free operation, activate this option by speaking with the optional headsets.
Tight/Normal Squelch
Flexibility to switch to tight squelch to filter out excessive noise; or, normal squelch for normal coverage.
Battery Options
Flexible choice of batteries:
– NiCD Battery
– High Capacity NiMH Battery
– Ultra High Capacity NiMH Battery
– Lithium Ion Battery
Enhanced Signalling Features
The GP328 two-way radio comes in these three choices of Signalling protocol:
I) MDC1200:
• PTT-ID
• Call Alert
• Voice SelectiveCall
• Radio Check
• Selective Radio Inhibit
• Emergency
II) Quik Call II:
• Call Alert
• Voice Selective Call
III) Dual Tone Multiple Frequency(DTMF) Signalling Encode
GP328 optional retrofit keypad model supports DTMF encode features.
Other GP328 Features
• Channel Scan
• Time-Out-Timer
• PL / DPL
• Busy Channel Lockout
Specifications: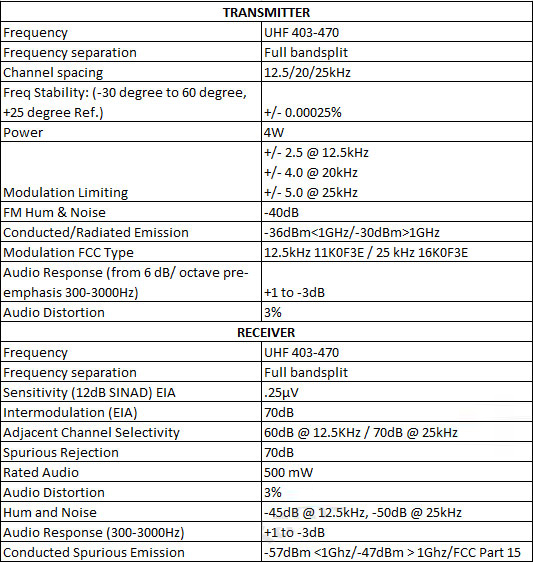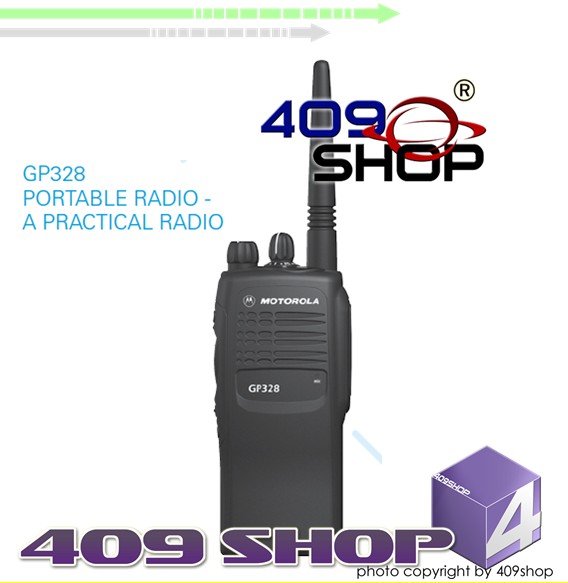 Photo will have chromatic aberration compared with the product
1 x MOTOROLA GP328 UHF 403-470Mhz Radio
1 x PMNN4008 NiMH rechargeable battery
1 x PMTN4026 rapid charger (with correct voltage and plug for your country)
1 x Antenna
1 x Spring belt clip
1 x English Operation manual