How To Choose Walkie Talkie Earpiece ?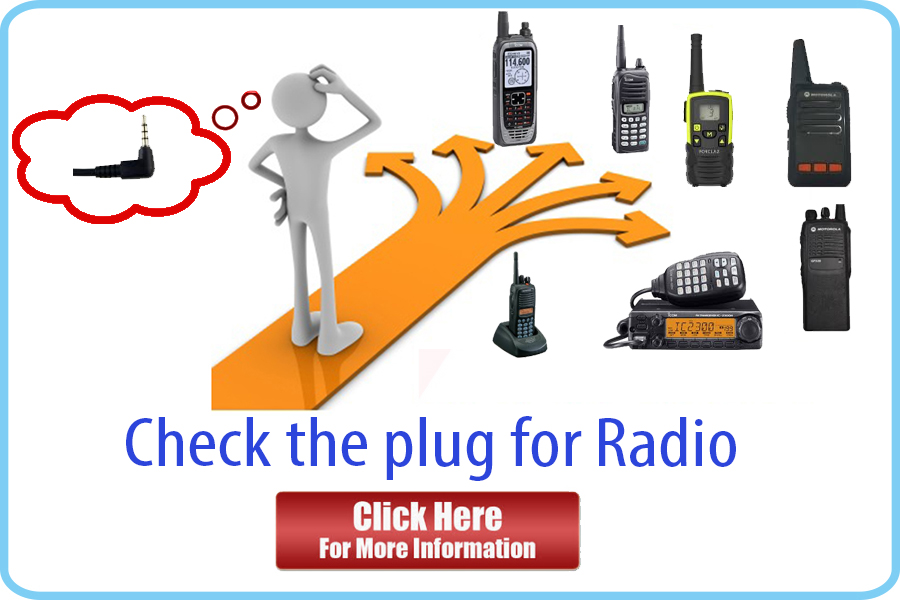 1st Method of Choose Walkie-Talkie Earpiece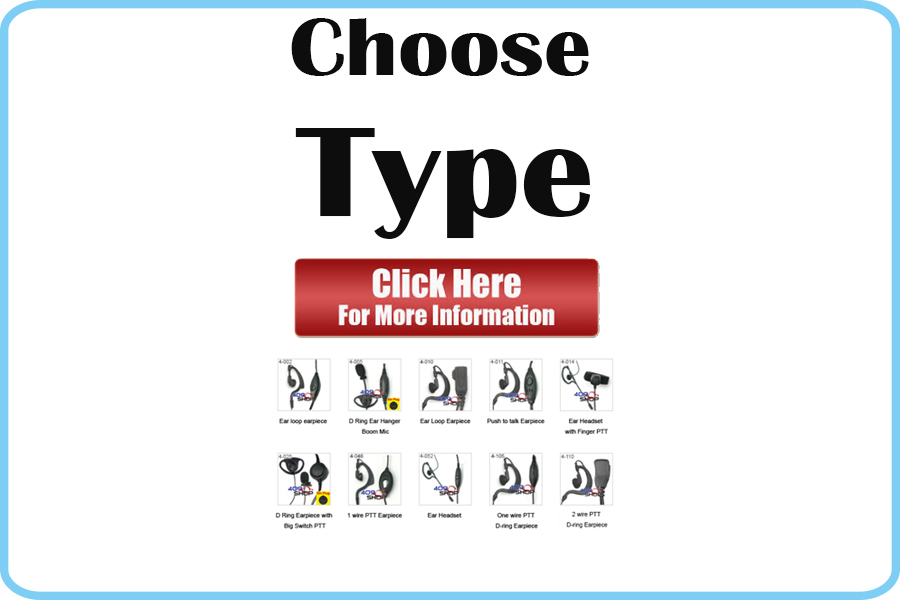 2nd Method of Choose Walkie-Talkie Earpiece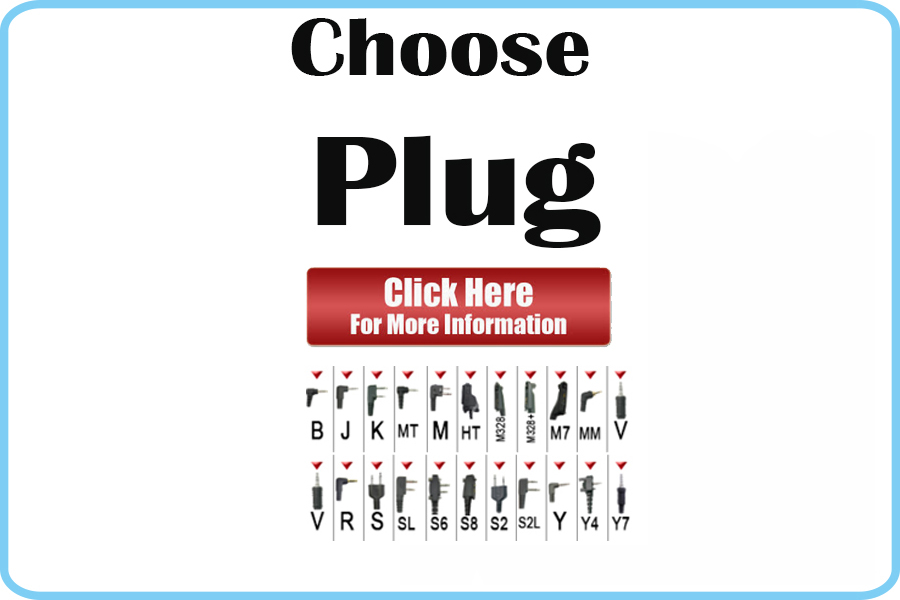 Walkie Talkie Radio Earpieces, Headsets, Speaker/Mics, Accessories
We provide a full range of audio accessories for most leading brands of walkie-talkie, including Motorola, Kenwood, ICOM, Kirisun, Cobra, Binatone and many CHINA radio others.
We sell various different types of earpiece/microphone, speaker/microphone and headsets for walkie-talkies,each with its own advantages and applications.
There are many different styles of sockets on different brands and models of walkie-talkie radio.
Not all the earpieces and headsets are available for all the radio connector types - please check the availability using the guide below.
One Wire Basic Earpiece with PTT Plug display for in stock

Earpiece Detail
409shop
Parts No.
4-004
 
 
 
 
 
 
 
 
 
 
 

4-018

 
 
 
 
 
 
 
 
 
 
 
 
 
4-030
 
 
 
 
 
 
 
 
 
 
 
 
 
 
 
 
4-039
 
 
 
 
 
 
 
 
 
 
 
 
 
 
 
 
 
4-051
 
 
 
 
 
 
 
 
 
 
 
 
 
4-115
 
 
 
 
 
 
 
 
 
 
 
 
 
 
 
 
4-116
 
 
 
 
 
 
 
 
 
 
 
 
 
 
 
 
 
 
 
 
 
4-124
 
 
 
 
 
 
 
 
 
 
 
 
 
 
 
 
 
 
 
 
 
4-125
 
 
 
 
 
 
 
 
 
 
 
 
 
 
 
 
 
 
 
 
 
4-126
 
 
 
 
 
 
 
 
 
 
 
 
 
 
 
 
 
 
 
 
 
4-127
 
 
 
 
 
 
 
 
 
 
 
 
 
 
 
 
 
 
 
 
 
4-131
 
 
 
 
 
 
 
 
 
 
 
 
 
 
 
 
 
 
 
 
4-132
 
 
 
 
 
 
 
 
 
 
 
 
 
 
 
 
 
 
 
 
 
4-151
 
 
 
 
 
 
 
 
 
 
 
 
 
 
 
 
 
 
 
 
4-A01
 
 
 
 
 
 
 
 
 
 
 
 
 
 
 

Two Wire Earpiece with PTT Plug display for in stock

Earpiece Detail
409shop
Parts No.
4-019
 
 
 
 
 
 
 
 
 
 
 
 
 
 
 
 
 
 
 
 
 
4-021
 
 
 
 
 
 
 
 
 
 
 
 
 
 
 
4-053
 
 
 
 
 
 
 
 
 
 
 
 
4-072
 
 
 
 
 
 
 
 
 
 
 
 
4-103
 
 
 
 
 
 
 
 
 
 
 
 
 
 
 
 
 
 
 
 
4-153
 
 
 
 
 
 
 
 
 
 
 
 
 
 
 
 
 
 
 
 
4-154
 
 
 
 
 
 
 
 
 
 
 
 
 
 
 
 
 
 
 
 

EARHOOK / Boom mic Earpiece with PTT Plug display for in stock

Earpiece Detail
409shop
Parts No.
4-002
 
 
 
 
 
 
 
 
 
 
 
 
 
 
 
4-005
Boom Mic
4-010
 
 
 
 
 
 
 
 
 
 
 
 
4-011
 
 
 
 
 
 
 
 
 
 
 
 
4-013
 
 
 
 
 
 
 
 
 
 
 
 
 
 
 
 
 
 
 
4-016
 
 
 
 
 
 
 
 
 
 
 
 
 
 
 
 
 
 
 4-025
MINI
Plug
Series
4-046

 

 
 
 
 
 
 
 
 
 
 
 
 
 
 
4-046C
 
 
 
 
 
 
 
 
 
 
 
 
 
 
 
 
 
 
 
 
 
4-104
P
 
 
 
 
 
 
 
 
 
 
 
 
 
 
 
 
 
 
4-105
 
 
 
 
 
 
 
 
 
 
 
 
 
 
 
 
 
4-106
 
 
 
 
 
 
 
 
 
 
 
 
 
 
 
 
 
 
 
 
4-110
 
 
 
 
 
 
 
 
 
 
 
 
 
 
 
 
 
 
 
4-112
 
 
 
 
 
 
 
 
 
 
 
 
 
 
 
 
 
 
 
 
4-113
 
 
 
 
 
 
 
 
 
 
 
 
 
 
 
 
4-A02
 
 
 
 
 
 
 
 
 
 
 
 
 
 
 
4-A04

 

 
 
 
 
 
 
 
 
 
 
 
 
 
 
 
 
4-A04W
 
 
 
 
 
 
 
 
 
 
 
 
 
 
 
 
 
 
 
 
4-A05
 
 
 
 
 
 
 
 
 
 
 
 
 
 
 
4-088Z
 
 
 
 
 
 
 
 
 
 
 
 
 
 
 
 
 
 
 
 
 
4-109
 
 
 
 
 
 
 
 
 
 
 
 
 
 
 
 
 
 
 
 
 
4-128
 
 
 
 
 
 
 
 
 
 
 
 
 
 
 
 
 
 
 
 
 
4-014
 
 
 
 
 
 
 
 
 
 
 
 
 
4-052
 
 
 
 
 
 
 
 
 
 
 
 
 
 
4-120
 
 
 
 
 
 
 
 
 
 
 
 
 
 
 
 
 
4-130
 
 
 
 
 
 
 
 
 
 
 
 
 
 
 
 
 
 
 
 
 
4-138
 
 
 
 
 
 
 
 
 
 
 
 
 
 
 
 
 
 
 
 
 
4-150
 
 
 
 
 
 
 
 
 
 
 
 
 
 
 
 
 
 
 
 
 
4-150P
 
 
 
 
 
 
 
 
 
 
 
 
 
 
 
 
 
 
 
 
 
4-150R
 
 
 
 
 
 
 
 
 
 
 
 
 
 
 
 
 
 
 
 
 
4-152
 
 
 
 
 
 
 
 
 
 
 
 
 
 
 
 
 
 
 
 
4-155
 
 
 
 
 
 
 
 
 
 
 
 
 
 
 
 
 
 
 
 
4-156
 
 
 
 
 
 
 
 
 
 
 
 
 
 
 
 
 
 
 
 
4-159
 
 
 
 
 
 
 
 
 
 
 
 
 
 
 
 
 
 
 
 
 
4-168
 
 
 
 
 
 
 
 
 
 
 
 
 
 
 
 
 
 
 
 
 

Air Acoustic PTT / Mic Earpiece with PTT Plug display for in stock

Earpiece Detail
409shop
Parts No.
4-006
 
 
 
 
 
 
 
4-007
 
 
 
 
 
 
 
 
 
 
 
 
 
 
4-008
 
 
 
 
 
 
 
 
 
 
 
 
 
 
 
 
 
 

4-008#

MINI
Plug
Series

4-020

 

 
 
 
 
 
 
 
 
 
 
 
 
4-032
 
 
 
 
 
 
 
 
 
 
 
 
 
 
 
 
 
 
 
 
 
4-035
 
 
 
 
 
 
 
 
 
 
 
 
4-050
 
 
 
 
 
 
 
 
 
 
 
 
 
4-085
 
 
 
 
 
 
 
 
 
 
 
 
4-119
 
 
 
 
 
 
 
 
 
 
 
 
 
 
 
 
4-129
 
 
 
 
 
 
 
 
 
 
 
 
 
 
 
 
 
 
 
 
 
4-136
 
 
 
 
 
 
 
 
 
 
 
 
 
 
 
 
 
 
 
 
 
4-137
 
 
 
 
 
 
 
 
 
 
 
 
 
 
 
 
 
 
 
 
 
4-137Q
 
 
 
 
 
 
 
 
 
 
 
 
 
 
 
 
 
 
 
 
 
4-147
 
 
 
 
 
 
 
 
 
 
 
 
 
 
 
 
 
 
 
 
 
4-169
 
 
 
 
 
 
 
 
 
 
 
 
 
 
 
 
 
 
 
 
 
4-A03
 
 
 
 
 
 
 
 
 
 
 
 
 
 
 
4-A06
 
 
 
 
 
 
 
 
 
 
 
 
 
 
 
 
 
 
 
 
 

Special Item with PTTPlug display for in stock

Earpiece Detail
409shop
Parts No.
4-009
 
 
 
 
 
 
 
 
 
 
 
 
 
 
 
4-091
 
 
 
 
 
 
 
 
 
 
 
 
 
 
4-101

 

 
 
 
 
 
 
 
 
 
 
 
 
 
 
 
 
 

Motocycle helmet headset with PTTPlug display for in stock

Earpiece Detail
409shop
Parts No.
 

4-065

MINI
Plug
Series

 

4-133

 
 
 
 
 
 
 
 
 
 
 
 
 
 
 
 
 
 
 

 

 
 
 
 
 
 
 
 
 
 
 
 
 
 
 
 
 
 
 

Ear-Vibration 2 in 1 with PTTPlug display for in stock

Earpiece Detail
409shop
Parts No.
4-012
 
 
 
 
 
 
 
 
 
 
 
 
 
 

4-012

MINI
Plug
Series

4-024
 
 
 
 
 
 
 
 
 
 
 
 
 
 

4-024

MINI
Plug
Series

4-026
 
 
 
 
 
 
 
 
 
 
 
 
 
 
 
 
 
 
 
 
 

 

4-102

MINI
Plug
Series

Throat-Vibration with PTTPlug display for in stock

Earpiece Detail
409shop
Parts No.
4-034

 

 
 
 
 
 
 
 
 
 
 
 
 
 
 
 
 
 
 
 
 
4-036
 
 
 
 
 
 
 
 
 
 
 
 
 
4-037
 
 
 
 
 
 
 
 
 
 
 
 
 
 
 
 
 
 

4-066

MINI
Plug
Series

 

4-066XL

MINI
Plug
Series

 

4-093

MINI
Plug
Series

 

4-094

MINI
Plug
Series

 

4-096

MINI
Plug
Series

 

4-098

MINI
Plug
Series

 

4-099

MINI
Plug
Series

4-111
 
 
 
 
 
 
 
 
 
 
 
 
 
 
 
 
4-141
 
 
 
 
 
 
 
 
 
 
 
 
 
 
 
 
 
 
 
4-142
 
 
 
 
 
 
 
 
 
 
 
 
 
 
 
 
 
 
 

HeadSet with PTTPlug display for in stock

Earpiece Detail
409shop
Parts No.
 

4-015

MINI
Plug
Series

 
4-027
 
 
 
 
 
 
 
 
 
 
 
 
 
 
 
 
 
4-061

 

 
 
 
 
 
 
 
 
 
 
 
 
 
 
 
 

4-068

MINI
Plug
Series

 

4-080B

MINI
Plug
Series

 

4-080R

MINI
Plug
Series

 

4-080Y

MINI
Plug
Series

 

4-083B

MINI
Plug
Series

 

4-083R

MINI
Plug
Series

 

4-083Y

MINI
Plug
Series

 

4-107C

MINI
Plug
Series

4-171

MINI
Plug
Serie

 
 
 
 
 
 
 
 
 
 
 
 
 
 
 
 
 
 
 
 
 

4-172

MINI
Plug
Serie

 
 
 
 
 
 
 
 
 
 
 
 
 
 
 
 
 
 
 
 
 
Mobile Radio remote control with MIC/PTT

 
 
 
Other Y plug choose : (One Wire PTT Earpiece)
 
 
 
Two Wire PTT Earpiece
 
 
Ear-hook / Boom Mic Earpiece
Air Acoustic PTT / Mic Earpiece
Motorcycle In-Helmet Microphone / Without Ext Earpiece
 
Special Item with PTT
 
 
HeadSet With PTT
 
 
 
 
Other Mini Din Plug choose :