We continue to add new products to our inventory all the time. Here you will get a sneak peek at what is to come to 409shop. If you like what you see, contact us to pre-order yours today.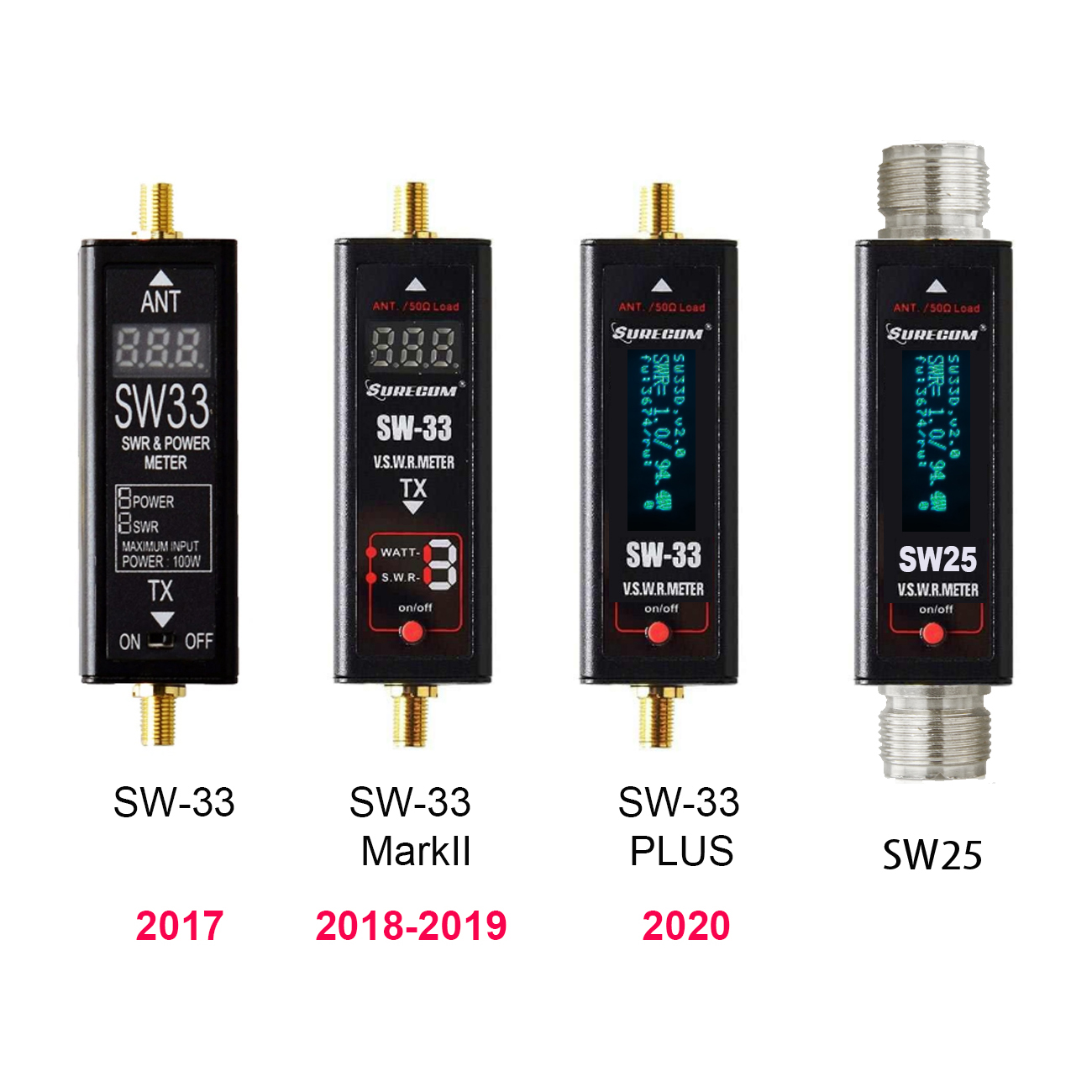 2020 coming soon :

1)BS01 Bluetooth PTT finger Switch for Zello iOS Android Walkie Talkie APP
2)SE01 Wire PTT Earpiece for Zello iOS Android Walkie Talkie APP
3)SS01 Wire Speaker mic for Zello iOS Android Walkie Talkie APP
4)Bluetooth Speaker Microphone for Zello iOS Android Walkie Talkie APP
5)SA960 antenna analyzer 35MHz -960MHz

6)SA290 antenna analyzer 1MHz - 290MHz
7)SA450 antenna analyzer

8)SR729 Repeater controller with zello phone ready.

9) SS10 Field Strength Meter

10)SS11 Field Strength Meter
---
SS10 Field Strength Meter

This Field Strength Meter is widely used, here are a few common examples.

All kinds of radio equipment commissioning .Put this field strength around the antenna of the radio transmitting equipment.This Field Strength Meter with a high degree of equipment to get the maximum

reading, which fully shows that being debugged device radiation effects.For the debugging of a variety of homemade antennas, a certain power of the signal at the input end of the measured antenna input, to put this Signal Level Meter To be near the test antenna by adjusting the antenna Strength Meter reading is the largest, in order to get the best radiation effects and Communication distance.

3 This Field Strength Meter in accordance with such as the radius of the circle into the radio equipment around, according to the size of the table the first reading to know .
The direction of maximum radiation of the device under test is located, to provide guidance after directional communication antenna adjustment. Compact, high-sensitivity

Frequency bandwidth, high sensitivity, 100KHz-1000MHz

How to work:
When comparing the efficiency of the test antenna, the position of the walkie-talkie antenna and the field strength table remain at a certain distance to maintain the position. When testing, first tighten the adjustment knob to the maximum. Press the intercom button and gradually adjust the knob to the left to adjust to the full table. Switching to different antennas to see the amplitude of the pointer vs. the efficiency of the antenna, the greater the degree of the pointer of the meter, the better the radiation effect of the antenna. If you want to test the antenna's resonant frequency field strength table position, press the intercom transmitter key antenna from far to near the field strength table, when the field strength table pointer changes, the fixed antenna position does not move, adjust the different frequencies of the walkie-talkie, press the intercom launch key Look at the amplitude of the pointer of the strong table, the greater the amplitude, the better the antenna resonance.

The shooting accuracy is high. This field is designed by myself. No power is required. high sensitivity. Small size. Easy to carry. Test the wireless transmitting device. Test the transmission efficiency of the walkie-talkie antenna. An ideal tool for self-made antenna radiation efficiency and direction. Radio frequency leakage is detected during radio maintenance.

Brand: SURECOM
Manufacturer's Part Number: SS10
Field Strength Meter Type:whip
Meter Style:Sweep needle
Meter Illumination:No
Antenna Connector Type: SMA FEMALE
Frequency Range:100 kHz - 1000 MHz
Antenna Whip Included:Yes
Power Supply:Not required
Batteries Included:No

100K-1GHz RF Field Strength Meter For Walkie Talkie Antenna Field Strength Radiation Field Intensity

Features:
- Wide frequency band and high sensitivity 100KHz-1000MHz. (The original antenna is 400-520Mz. To test different frequency signals and ensure better effect and sensitivity, please use antennas with different frequency).
- To protect its current meter, the amplitude of pointer is adjustable.
- Built-in automatic damping function prevents the hands from swinging too fast to cause damage.
- Compact size for easy carrying.
- Simple and beautiful design.
- Net Weight: 170g.

Testing Sensitivity:
- For 0.1W Transmitters: Distance 0.1-1M
- For 2W/5W Transmitters: 1-3M
- For 10W Transmitters: 2-5M
- For 50W Transmitters: About 3-10M

How to Use It?
- Before using, please adjust the amplitude to the far left side. The length of your antenna depends on testing frequency. 1/4 wavelength is recommended. Keep your hand-held walkie-talkie about one meter away from the field strength meter, do not get too close! So as not to burn the field strength meter due to strong signals. And press PTT button in your radio to make it enter into transmitting state. At the moment, the pointer of the field strength meter should indicate the signal. The stronger the signal, the bigger the indication.
- Amplitude Adjustment: If the pointer of the field strength meter exceeds the maximum range, you can adjust it to let the pointer point to an appropriate position.

How to Test Maximum Gain Point?
- Please use a walkie-talkie with a keyboard to manually set frequency quickly.
- Connect the two-way radio and your antenna feeder. Place the field strength meter near the antenna. The distance depends on the environment. Please place it within the vertical radiation angle of the antenna, and the same antenna polarization method is recommended.
- Set radio's frequency, press the transmitting button, observe the meter reading, and write down the meter reading at this frequency. Then set the walkie-talkie to other frequency points, make the walkie-talkie into transmitting state again and observe the meter reading. After repeating the above steps for several times, compare readings at different frequencies. You can get to know the best frequency / segment of the antenna under test.

Package Included:
- 1 x SURECOM SS10 Field Strength Meter
- 1 x 400-520MHz SMA Male Antenna
SR729 Repeater controller with zello phone ready.
For Zello App on iOS and Android.

POC Audio Accessory Solution

Real time repeater

Zello cross band Anlaog Radio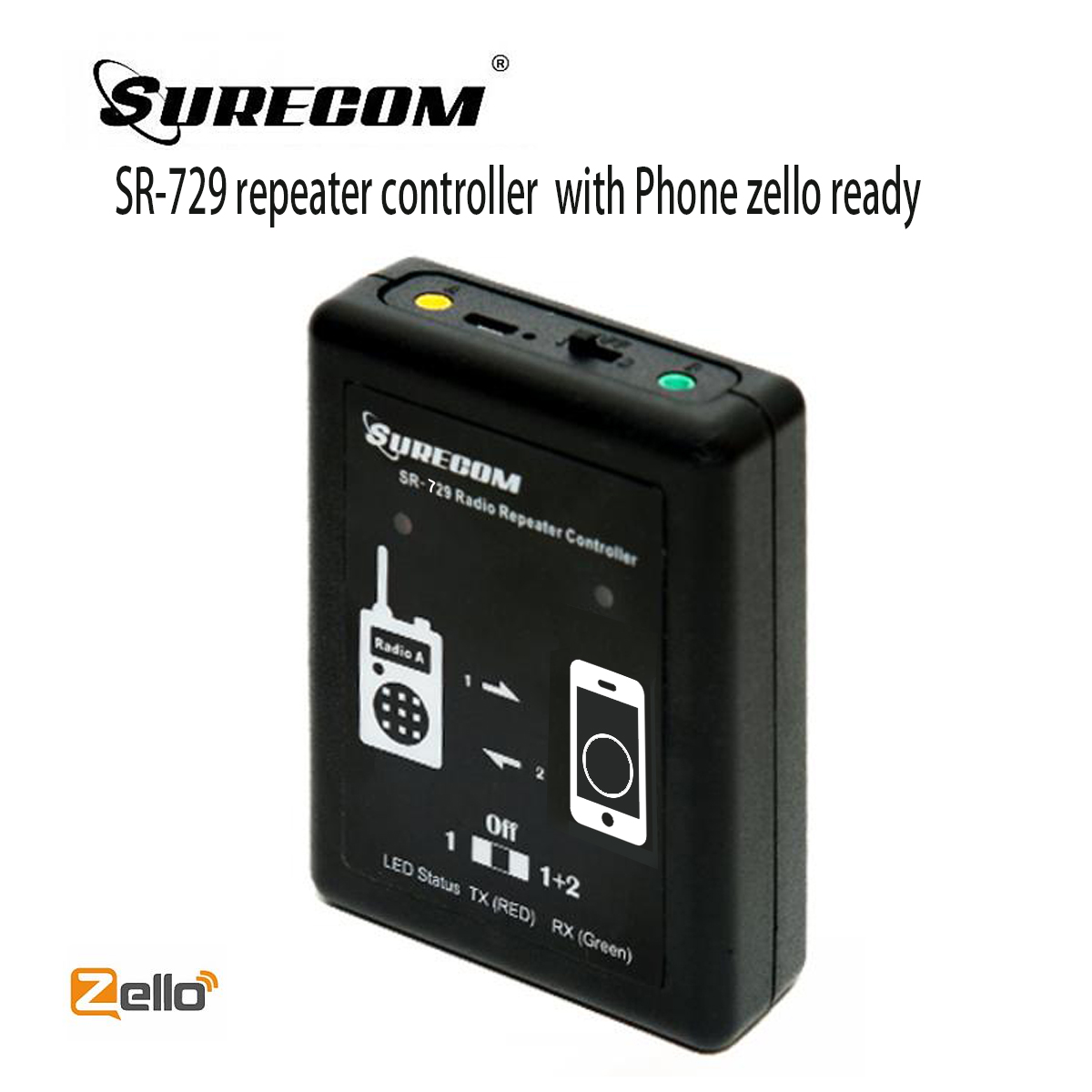 SURECOM SS-01 Speaker Mic for Zello
iOS Android Walkie Talkie APP
PTT (Push-To-Talk) and speaker combo.
Audio Ports are on BOTH right to enable wearing the radio on either the front or the back!
AMPLIFIED - EXTRA LOUD Speaker
Includes the Battery and USB to 3.5mm Charger in the box at no additional charge.

Fit for Phone and POC Walkietalkie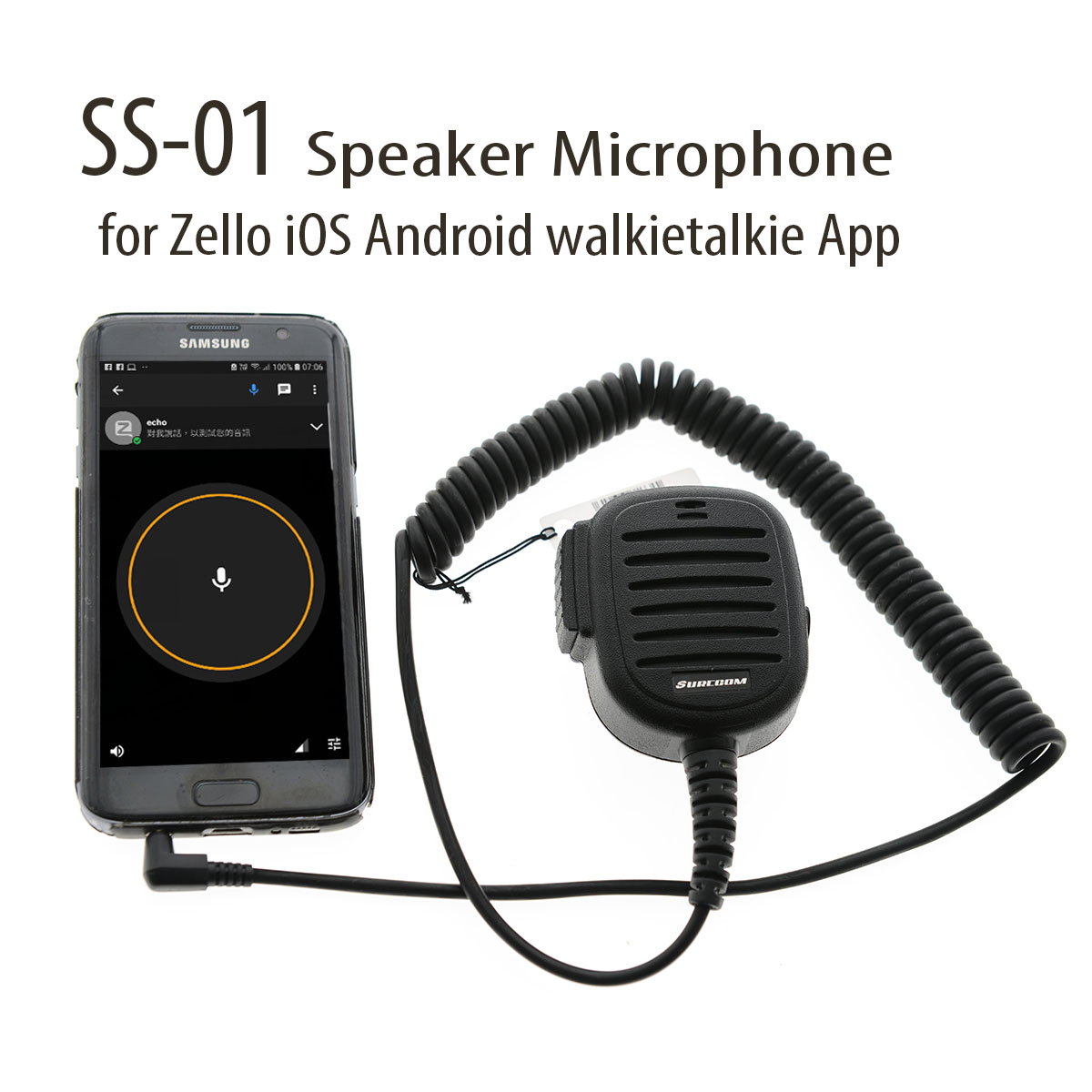 Surecom SE-01 meets Zello user's needs of rugged applications
For Zello App on iOS and Android.

POC Audio Accessory Solution

Noise Reduction Knowles Microphone.

Front Facing PTT Button.

Embedded 3V battery provides more one year talk time.

Automatically power on when SE01 is plugged into smart phone.

PTT button, volume control buttons, and cell phone button are built in

Features 3.5mm jack for receiving only earphone

cheaper price for use earpiece for zello app

Designed & Engineered in the HONGKONG
This is our NEWEST invention for our customers wanting to use PTT apps on cell phones and tablets. Most cell phones and tablets do not support any kind of external Push-to-Talk (PTT) function on their accessory plugs, so users have either had to use the device screen or Bluetooth to make the PTT work. Sometimes it's not easy to push a PTT on the device screen, and Bluetooth can be inconvenient since it needs pairing, battery charging, etc. The SE-01 solves this problem by having the computer software inside! (like phone calling, music playing, photo taking, etc.) The SE-01 PTT button activates computer software that communicates to the phone or tablet and activates the PTT of the PoC App. directly. TheSE-01 PTT works just like a normal PTT, push to talk and release to listen. There is no battery to charge and the SE-01 does not add any battery drain to your phone or tablet (the SE-01 has a small disposable battery you can easily change, but it will last from 1 to 2 years so it is very inexpensive to operate.) Using the SE-01 is super easy! Select 'External PTT' in your PoC App (not every PTT App supports external PTT, so check first.) Plug in the SE-01, and simply press the PTT to start talking. There is nothing to pair, nothing to charge. Couldn't be much easier!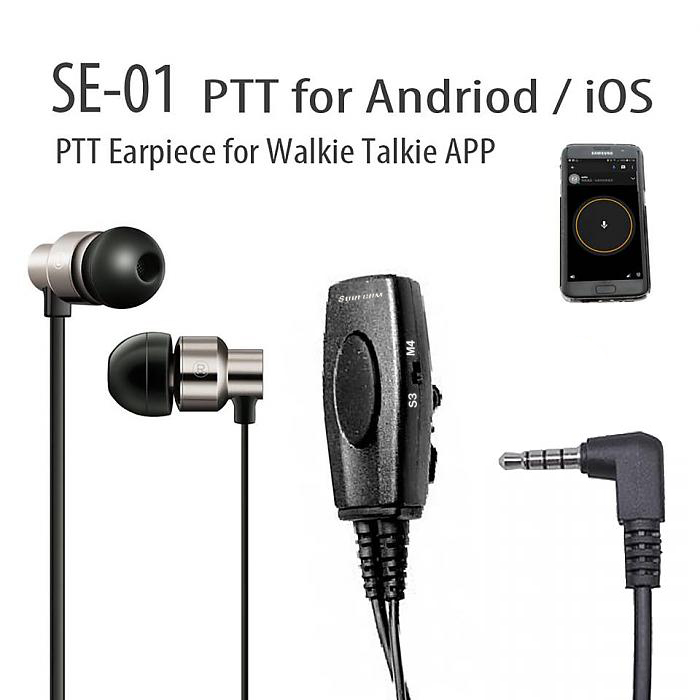 SURECOM Antenna Analyzer

SA290 Antenna Analyzer 1MHz - 290MHz
SA350 Antenna Analyzer 35MHz -520MHz
SA960 Antenna Analyzer 35MHz -960MHz
SURECOM 20W POWER METER W/ FREQUENCY COUNTER
Features:
1) Power readout directly in digital form without any calibration.
2) Maximum measurable power range up to 20W.
3) Check your Radio power output watt radio frequency under a second.
​4) Easy connectin with handheld Radio
---
SURECOM SW-33 markII 125-525 Mhz Mini Digital VHF/UHF Power & SWR Meter
Features:
1 VSWR. Forward and reflected power direct digital readout, without any calibration.
2. Maximum measurable power range up to 100W.
3. 3 seconds check your antenna SWR , also check your radio RF power watt.
​4.Easy to install handheld Radio
---
SF-103 Portable Frequency Counter 2MHz - 2.8GHz
Feature & Specification:
Frequency range two select : 2MHz-200MHz / 27MHz -2800MHz

CTCSS/DCS Decoder

Frequency counter Digital mode for DMR radio

Work by TCXO( Temperature Compensate X'tal (crystal) Oscillator) 2~2.5ppm

Frequency Response time: 0.2-0.5sec.( CTCSS/CDCSS >0.5-1sec)

TFT Color Display 240 x 320 ,LCD Dim level setting

Build-in Li-ion battery

Net Weight: 113g

4 buttons control

Auto power off 1-9minutes

Charging battery LED indicator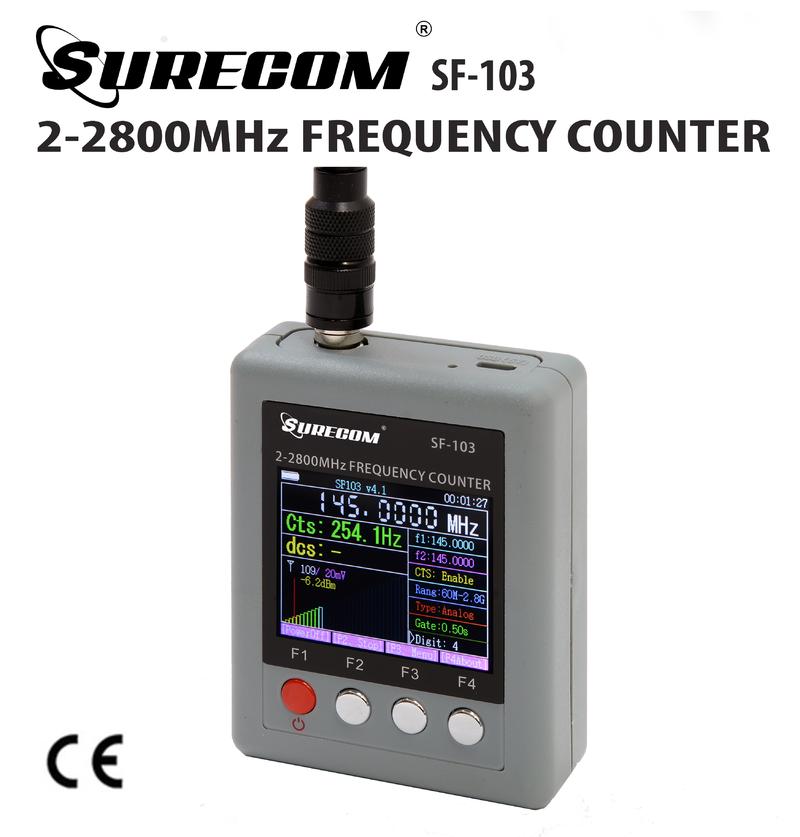 ---
COMING SOON
SURECOM SP2496 Colour Graphic 100-1050Mhz Spectrum Analyzer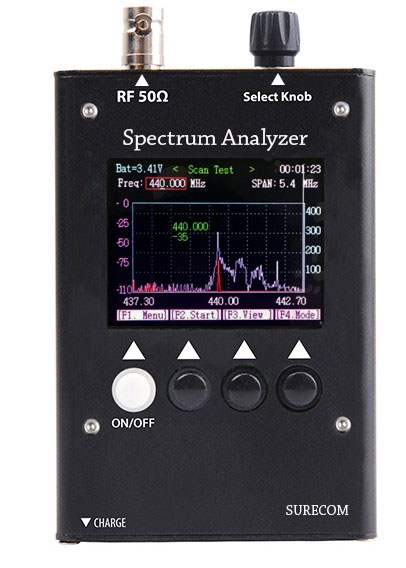 Specifications:
Model No.

SP-2496

Frequency Range:

100-1050Mhz

Connector:

BNC Female

RF Output Power:

N/A

Frequency Step:

0.1/1/10/100/1000KHz

Input

50Ohm

Power:

3.7V Li-Polymer

Charge Power Supply:

DC5V> 500mA

Frequency stability:

<0.5PPM

Span Range
0.54Mhz / 1.35MHz / 2.75 / 5.4MHz / 13.5MHz
/ 27MHz / 54MHz / 108MHz
Charge indicator:
Two-color LED Hidden (when not charging)
there are three instructions state:
1, charging (red)
2, charging is completed (green)
3, charging fault (flashing)
Charger Power:

Standard Micro USB connector

Size:

10.5 * 7.1 * 2.5cm (L * W * H)
---
SURECOM SW-33 100-520 Mhz Mini Digital VHF/UHF Power & SWR Meter

Features:

1 VSWR. Forward and reflected power direct digital readout, without any calibration.
2. Maximum measurable power range up to 100W.
3 low insertion loss (0.3 decibels or less) structure allows it to be permanently connected.

Specifications:
Frequency range: 100 - 520MHz
Measurable power range: 0 - 100W
Maximum power: 100W Accuracy: mean + / - 5%
Impedance: 50Ω
Size: W 25 X H 25 X D60 mm.
Weight: <160 grams
Battery : ,Li- battery (3.7V)

Specifications:
MAX. Power in

100 WATT

V.S.W.R

1.00~9.9

Frequency Range

COVER:100MHz~520MHz

Insertion Loss

< 0.15dB(VHF) , < 0.25dB(UHF)

Temperature

0℃~70℃

Battery Build -in

Li-ion Battery

Size

25*25*60 (mm)

Power in

5V (micro usb)

Interface (in and out )

SMA female

Weight

<160g 



---
SURECOM SR-629 repater controller
Features
SR-629 Duplex Repeater Controller

The SR-629 is a multi-function and cheaper device that connects any handheld or mobile radio.
By equipment and so on our assemble the build, the new generation
trunk-line board,the internal structure design are finer, the outward appearance is
more attractive. Beside scan give a the basic repeater function which has
follow the receiver transmitter,furthermore has the Simple connection,
provides the more ideal 2-way radio conversation region for you, causes you
maintains the relation in the bigger operating region.
When the radio units is connect, the received signal on a radio unit will
bee real-time transmit on the other radio unit.
e.g. VHF/VHF, UHF/UHF, VHF/UHF or UHF/VHF modes
Input A: Channel A is TX When channel B is RX.
Input B :Channel B is TX When channel A is RX .
The purpose will be done in two different places and using different
frequency bands intercom, through our mutual communication relay station.
This is a radio cross band duplex repeater controller. It is an easy of operation
and cost effective and highly flexible platform for setting up bi-direction
cross band duplex repeater with mobile radio and handheld radio.
The SR-629 has 2 audio ports in and out , they are used to connect with mobile
and handheld radio. DTMF remote control function with password protection is
available in the .. Multi-LED display 2 of radio status , and build-in battery Level.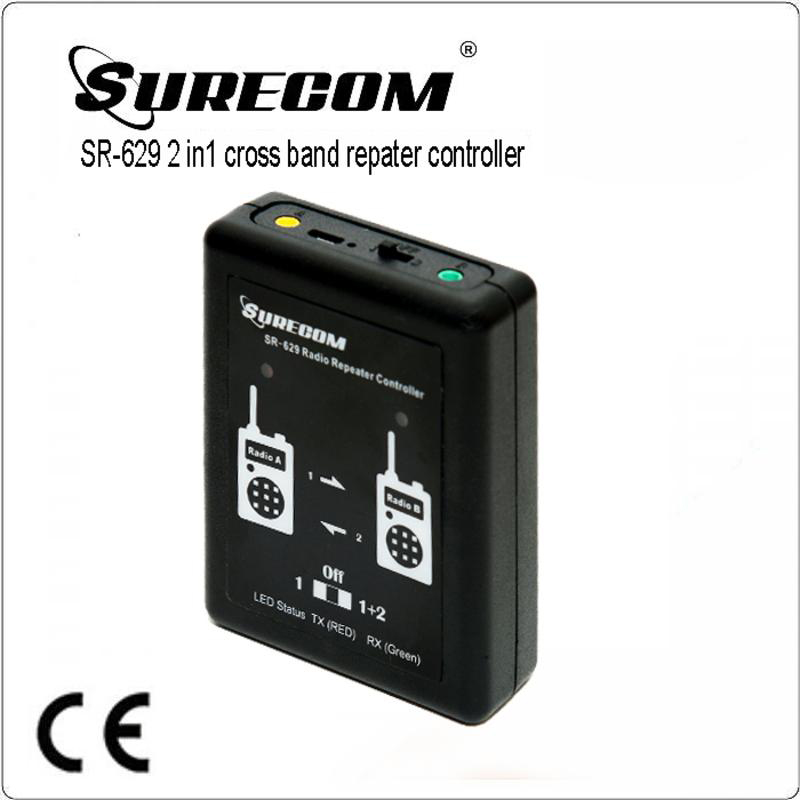 ---
SURECOM SF-401PLUS Portable Frequency Counter
Features:
Introduction: 
The frequency meter capable of measuring the limits of the frequency of the continuous carrier signal walkie-talkies , with signal strength indicator. it is the tool of choice for maintenance people,test frequency and signal strength of wireless enthusiasts.
This portable frequency counter is designed for counting continuous wave signal comes from Two-way Radio.
There are easy ranges for you to choose. The ranges cover most of the frequency of the two-way radios you want to measure.
Its four-button control is easy to use and its small size allows you to carry it anywhere you like.
Work by TCXO(Temperature Compensate X'tal (crystal) Oscillator) ,In the range of -45 ℃ ~ 65 ℃ can reach ± 2 ~ ± 4ppm accuracy 
---
---
ON SALE now ! SURECOM SA250 132-173 / 200-260 / 400-519MHz Colour Graphic Antenna Analyzer




Model
Country (Market)
Language
SA-250
USA,UK,CANADA..
ENGLISH
Below Model coming soon
SA-250C
CHINA
简体
SA-250F
France
français
SA-250H
HONGKONG,
TAIWAN
繁體
SA-250I
India
हिन्दी
SA-250J
JAPAN
日本語
SA-250K
Korea
한국의
SA-250M
Malaysia
Malay
SA-250R
RUSSIAN FEDERATION
русский
SA-250S
Spain
 
SA-250T
Thailand
ไทย

Specifications:
Model No.

SA-250

Frequency Range:

132-173Mhz / 200-260Mhz / 400-519MHz

Connector:

SMA Female

RF Output Power:

1-1.5V(5-10db)

Frequency Step:

0.1/1/10/100/1000KHz

VSWR Range:

1.00-19.99

ZRX Range:

0-999.9

Power:

3.7V 900mah ,Li-ion 14500

Charge Power Supply:

DC5V> 500mA

Frequency stability:

<0.5PPM

Sweep width:

300KHz / 1.5MHz / 3MHz / 6MHz / 12MHz / 24MHz / 42MHz / 75MHz (75MHz is only valid in 395-520MHz paragraph)

Charger indicator:
Two-color LED Hidden (when not charging)
there are three instructions state:
1, charging (red)
2, charging is completed (green)
3, Battery fault (flashing)
Charger Power:

Standard Micro USB connector

Scan step:
1KHz/5KHz/10KHz/20KHz/40KHz/80KHz/
140KHz/250KHz (250KHz only valid in the 395-520MHz paragraph)

 
---
ON SALE now ! SURECOM SA160 0.5-60MHz Colour Graphic Antenna Analyzer

Specifications:
Model No.
SA-160
Frequency Range:
0.5-60MHz
Connector:
BNC (50 OHM)
RF Output Power:

1-1.5V(5 - 10dB)

Frequency Step:
0.1/1/10/100/1000KHz
V.S.W.R. Range:
1.00-19.99
ZRX Range:
0-99.9
Build-in Battery :
3.7V 900mah ,Li-ion 14500
Voltage input :
DC5V> 500mA
Frequency stability:
<0.5PPM
Span width:
0.54MHz/1.35MHz/2.7MHz/13.5MHz/27MHz/54MHz
Charger indicator:

Two-color LED Hidden (when not charging) there

are three instructions state:
1, charging (red) ;
2, charging is completed (green)
3, Battery fault (flashing)

Charger Plug:
Standard Micro USB connector
Size:
70 x 120 x 25 mm
Colour Display:
TFT LCD 320 x 240 pixels
Weight:

172g
---