0023-0012 LX1010B
New 3 Range Digital 50000 Lux Meter Photometer Lux meter
Descriptions:
Item Condition: Brand New.

Accuracy: 5.0%.

Auto zero function.

Data hold function.

Low battery indication.

Net Weight: 150g (with package box is 325g).

LCD Size: 50mm * 28mm.

Sensor Dimensions: 100mm * 60mm * 28mm.
Body Dimensions: 118mm * 70mm * 29mm.
Sampling Rate: 2.0 Times/Second.
Battery: 9V Battery

(NOT INCUDING BATTERY)

Operating Temperature and Humidity: 0C~40C (32F~104F), 0~70%Rh.

Storage Temperature and Humidity: -10C~50C (14F~122F), 0~80%Rh.

Measurement Range: Lx1010B~2,000 / 200,00 / 50,000 lux

(± 5%+2D).

Very good LuxMeter for engineer.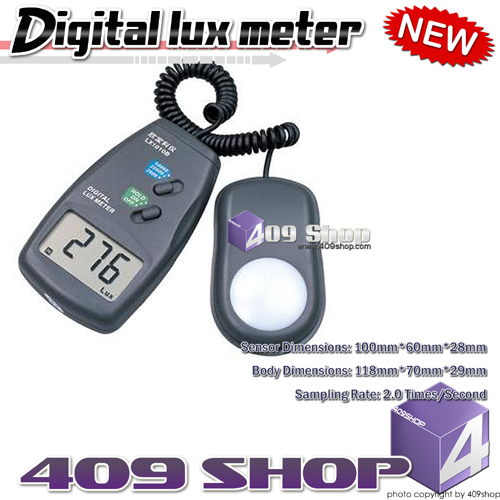 (NOT INCUDING BATTERY)

1 x English User Manual

1 x Sensor (with sensor cover)

1 x LX1010B  LUX meter