0014-0005
Digital Paper Moisture Tester

Function: Testing the water in the paper
Features: Large digital LED display, low-Hao consumption (low power consumption will be prompted), testing a wide range of
Moisture range: 5 40%%
Accuracy:: ± 2%
Size: 150 x 70 x 30 mm
Weight: about 165 grams (including battery weight)
(NOT INCUDING BATTERY)
Usage:
1. Open the battery cover into the 9V battery. Please indicate in strict accordance with the positive and negative battery box installed.
2. From a tester at the top Remove the protective cover, the sensor probe and protective cover from the outside of the two metal plugs fixed, press the test switch (Testing Switch).
Such as the LED display 18% ± 1%, said tester in a normal state, is about to start running. If the displayed value exceeds 17% - 19% range,
Or low (undervoltage) indicator lights, or tester to work. Then the battery is low, or is damaged, replace the battery, then try again.
3. The sensing probe into the test pattern, press and hold the test switch (Testing Switch), to detect the water content.
LED display is stable, shows the water content value is the value of the test paper.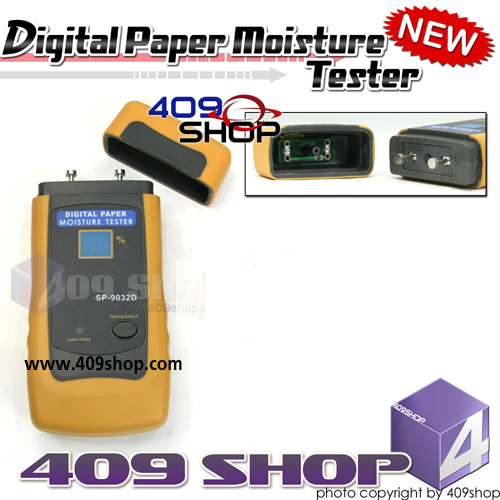 1 x Digital Paper Moisture Tester

(NOT INCUDING BATTERY)